Crowns
A dental crown is required when a tooth is heavily filled, badly broken down, cracked, or weakened due to root canal treatment. In some cases crowns are used for cosmetic purpose to improve your smile. A crown is a "cap" that fits precisely over, and is cemented to the underlying tooth. Crowns can vastly improve the appearance of teeth, strengthen teeth, protect the tooth from breakdown or fracture and greatly increase the lifespan of teeth.
Having a crown usually takes two appointments. The first involves the tooth being minimally filed down to allow the crown to be seated. An impression or mould is taken of the tooth and sent to a top quality laboratory who will fabricate your crown over the next couple of weeks. Meanwhile you will be fitted with a temporary crown.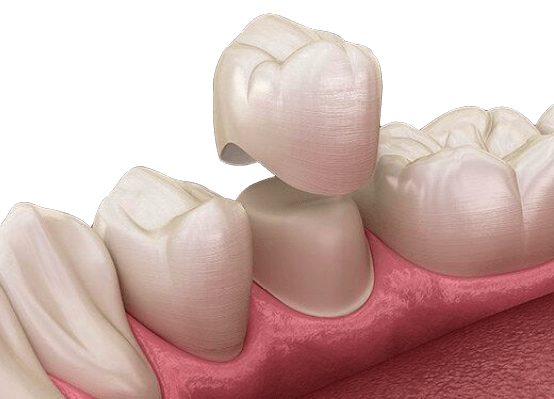 Bridges
A dental bridge is a durable, fixed solution to replacing missing teeth. The teeth on either side of the gap will be prepared to receive crowns and a bridge is made from an impression of your teeth with a natural looking pontic "dummy" tooth/teeth to replace missing teeth.
A bridge can prevent further tooth movement, improve your ability to chew and speak, restore your smile, and help you regain your confidence. Ask our friendly dentists if a bridge is a suitable option for you.